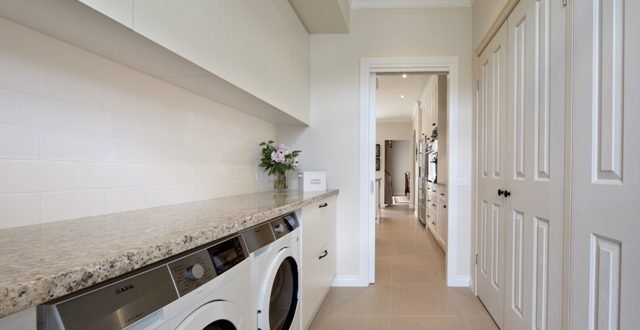 Laundry Renovation Costs and Considerations
It's easy enough to discount the importance of maintaining and renovating your laundry and instead focus on revamping the other main living areas like the kitchen, lounge room and bathroom. However, renovations are not all about aesthetics – updating the functionality of a space is just as important, particularly for a room like the humble laundry. Organisation, space optimisation and practicality are paramount in a laundry and as the size can often be quite limiting, planning for these can be very important.
Things to consider when planning your laundry renovation
These days there are constant innovations for simplifying our day to day tasks and making them as easy and efficient as possible. This is no different for tasks that require a laundry. Whether it be optimising the space with compartments for items like washing detergent and laundry baskets, or ensuring an adequate recess for the washing machine and dryer. Having a functional space can make all the difference. If you're stuck for inspiration, check out some of our laundry design ideas.
Budget
Determining the amount of money you have to throw at the project is the starting point you'll need to be able to factor in all other considerations. A small laundry renovation can start from as low as $2000 and upwards of $20,000 if you're planning for a full revamp with new cabinets, finishing and plumbing changes.
Depending on how old your current laundry design is, you may not need too many structural changes and therefore the cost will likely be reduced.
Layout/extension
Once you've determined your budget you can look at the layout of your space and what changes need to be made to optimise functionality. This is the time to consider all of the tasks you will need to perform in this room. From hand-washing and drying to ironing and folding. You'll also need to understand how much storage space you'll need. If an extension is possible, you may also want to consider whether this would help to improve the practicality.
Plumbing & Electrical
Depending on the scope of the project, if plumbing and electrical changes are required, this can have a significant impact on the overall laundry renovation cost. Weighing up the pro's and con's can be of benefit in this scenario. For example, if you're currently operating multiple appliances off one power outlet or the washing machine would function better on the opposing wall, arranging a plumber and electrician may be of benefit.
Breaking down the costs
Now that you have a better understanding of the changes you want to make – let's have a look at the associated laundry renovation costs.
The average cost for tradies you may require for the project:
Plumbers – will cost you around $100-$150 per hour
Carpenters – likely to charge around $40-$80 an hour
Painters – rather than charging per hour, a painter is likely to charge approximately $12–$30 per square metre of painting
Tilers – similar to a painter, a tiler will cost around $46-$150 per square metre, depending on the tile as some are easier to lay than others
The average cost of materials you may require for the project:
Cabinetry – this can vary from anywhere between $300 and $2000 depending on the type of materials you choose as well as whether you can purchase ready-made or if you need custom.
Bench top – again, the cost of a benchtop will depend significantly on the type of material you want it constructed from. You could be looking at anything from $120 for a simple laminate bench up to $2000 for natural stone or marble.
Sink and tapware – A standard sink and tap can cost you between $150 and $1000 depending on your budget.
Tiles – laying tiles can cost between $35 and $100 per square metre depending on your material preference. For a cost efficient option, you could opt for vinyl flooring.
When it comes to renovating your laundry, there are a lot of factors to consider – but the results can be incredible. Have a chat to the friendly team of experts at Cameron Construction to discuss your vision.